By Luke Baynes
Observer staff
Despite being around since 1979, VABIR is among the least identifiable flavors in the alphabet soup of acronymed nonprofit organizations in Vermont.
Perhaps that's because VABIR, which stands for Vermont Association of Business Industry and Rehabilitation, does its work behind the scenes, without fanfare.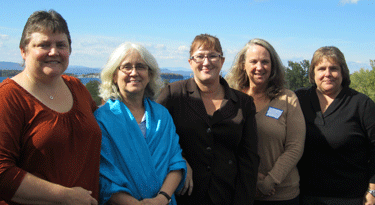 "We're best known for helping Vermonters with disabilities go to work, so our goal is to work with folks and get them to the point where they can get long-term, gainful employment," said Executive Director Christine McCarthy. "That's always our ultimate goal."
Founded in Rutland but currently headquartered in Williston, VABIR assisted 2,135 employment-seeking Vermonters during the fiscal year ending June 30, 2012. That figure includes people with both mental and physical disabilities, plus military veterans and those re-entering the workforce after incarceration or receiving financial assistance through Reach Up (Vermont's Temporary Assistance for Needy Families program).
"While our primary mission is helping people with disabilities, probably in the past two years we've expanded a little bit the folks that we're helping," McCarthy explained. "So in addition to helping folks with disabilities, we're now helping other Vermonters who have other barriers to employment who need some help going back to work."
VABIR is a member of Creative Workforce Solutions, a state-sponsored program through VocRehab Vermont that aims to streamline statewide job resources for employers and prospective employees.
"The goal was to do collaboration and ultimately work better with employers throughout the state and to ideally create more job opportunities for all the folks of Vermont that need help going to work," McCarthy said of CWS. "It's been a very successful initiative."
She added that CWS' mission aligns remarkably well with the goals VABIR has set since 1979.
"We kind of have two customers. We have the clients that we serve, but we also serve employers, because we want the employers to see us as a resource for hiring," she said. "We want employers to know that if we work with them, we're not just going to send them everyone we have. We're going to make sure that the referrals that we give them are qualified to do the jobs."
McCarthy said part of VABIR's work with employers involves dispelling common myths about disabled workers.
"I think that some employers are afraid that hiring a person with a disability brings different rules, and it doesn't," McCarthy said. "I think there's this thought that if I hire a person with a disability and they're not working out, I can't fire them, which is absolutely not true."
Renee Davies, operations manager at VABIR's Williston office, commented that once business owners get over initial preconceptions about disabled workers, they often turn to VABIR to fill subsequent job openings.
"There's a lot of businesses around the state now that call us first when they have an opening, because they know that we're going to give them a qualified match," Davies said.
Five years ago, VABIR had 27 employees. It now has 95 employees—65 percent of whom have some form of disability.
"We walk the walk," Davies said.
VABIR enables employment  (link to the Williston observer article)