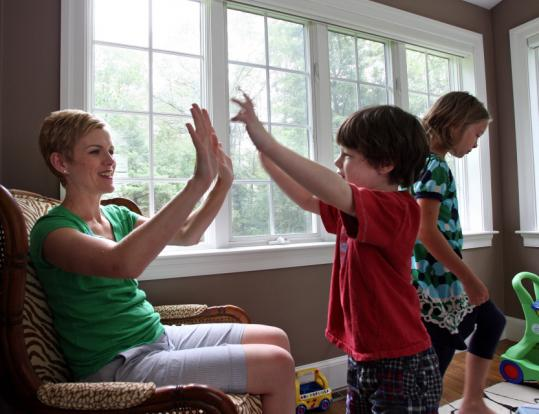 DOVER – Because of his severe autism, the cost of educating 5-year-old Jack Ursitti runs $100,000 a year. But unlike expenses with most medical conditions, the bills for treating him will be borne by Dover schools and the rural town's taxpayers – not his family's medical insurance.
Now, the nation's largest autism advocacy group, Autism Speaks, is planning a legislative push in 20 states, including Massachusetts, to require private insurance companies to pay a portion of the intensive, expensive educational treatments that many medical professionals say are a child's best chance to overcome, or just learn to cope with, profound and lifelong developmental and learning disabilities.
Similar laws have passed in the past several months in Arizona, Florida, Louisiana, and Pennsylvania requiring private insurers to pay toward a variety of therapies, including applied behavior analysis. That system, known as ABA, involves a weekly regimen of more than 30 hours of intense, often one-on-one, positive reinforcement techniques for teaching children how to speak, play, learn, and function in the world.
But private insurers are balking at the proposed requirement, especially coverage of the specialty ABA programs, which they say are relatively new and unproven, and not effective for all children. ABA teachers are not licensed in many states, and insurers contend that the therapy system is still too new to be regulated sufficiently.
Requiring insurers to pay for educating autistic children would "drive up costs for everyone," said Dr. Marylou Buyse, president of the Massachusetts Association of Health Plans, an industry group representing 12 health plans operating in the Commonwealth.
Health insurers should not be dragged into the educational arena, particularly to pay for ABA classes, she added. "In a sense, it's asking for a blank check for therapies that we'd want more evidence to prove are really effective," Buyse said.
But parents of autistic children are determined to get their youngsters into programs that offer even a glimmer of hope. They also want to shift society's perceptions of autism.
"If my son couldn't hear and needed a cochlear implant, we wouldn't be asking the school system to take responsibility," said Jack's mother, Judith, coordinator of the New England lobbying effort for Autism Speaks. "As a society, we have to acknowledge that autism crosses a line from an educational issue to a medical one. Jack was diagnosed by a neurologist, not a schoolteacher."
Richard DeRoo of Reading, a software engineer whose 11-year-old son, Evan, has autism, said parents are desperate for more financial help.
Since his diagnosis at age 3, Evan has needed extensive behavior, speech, physical, and occupational therapy, his father said. The family paid for some of that care out-of pocket at a cost of $25 to $50 per hour.
Evan is now at the Melmark School in Andover, a program that is paid for by the Reading schools systems.
"As a parent you wonder what more he's capable of, and I think he's capable of even doing so much more," his father said. "But people like us do not have the means to pay for this."
In 2007, the state reported that the number of schoolchildren diagnosed with autism had nearly doubled in five years, to more than 7,500. An estimated 1 in 150 children fall somewhere on the autism spectrum.
Educators have traditionally treated autism like other serious disabilities such as Down syndrome and cerebral palsy, which entitle a child to state-funded, Early Intervention weekly therapy sessions until age 3. Then the local school system takes over, paying for a spot – and sometimes an aide – in a public classroom, or, if the child's needs are more profound, a slot in a private school until adulthood.
Autism Speaks says there isn't enough money in school budgets to provide the therapy needed by the swelling numbers of autistic children, and it will be years before enough ABA-trained therapists can be hired into most public school classrooms.
"Autism is a complex disorder and it's taken folks a while to learn what we need to do," said Elizabeth Emken, the group's vice president of government relations. "But now we are talking about medical treatments prescribed by medical doctors, and covering them like any other medical treatments."
In Massachusetts, school systems already spend more than $1.6 billion annually on all special education programs. Some school districts currently spend more than 20 percent of their budgets exclusively on special ed students with a variety of needs, said Paul Andrews, director of government services for the Massachusetts Association of School Superintendents.
"Special-needs costs have escalated so high that it has reduced the amount of funding we can spend on regular education," said Andrews, a former school superintendent in Woburn.
The attempt to persuade state lawmakers to require autism coverage in Massachusetts is just getting off the ground, and Autism Speaks will soon be seeking a legislative sponsor and the support of local autism advocacy groups, Emken said.
The group will also focus political efforts in New York, New Jersey, Virginia, and Ohio over the next six months, and renew efforts in Oklahoma, where the mandate passed in the state Senate, but was killed in the House of Representatives this year.
Efforts to pass autism coverage requirements have not succeeded over the years on Beacon Hill, where bills failed to gain much momentum or widespread public support.
This latest attempt may turn out to be different, as the needs of autistic children and the financial stress on school systems have become too intense to ignore, said Vincent Strully, founder and CEO of the Southborough-based New England Center for Children, a program treating 400 autistic children at campuses in the Boston area and overseas in Abu Dhabi, United Arab Emirates.
"We have an enormous problem and no financial support to treat it. And we are in a race with the clock. We know that with two to three years of effective interventions in very young children, between 10 and 40 percent of them may even lose their diagnoses," Strully said.
The Massachusetts Association of Health Plans has not calculated what such a requirement could cost ratepayers, but insurers in other states put the price tag in the tens of millions, depending on the programs. Autism Speaks disputes those figures and says its proposal will increase health insurance premiums an average of 1 percent nationwide.
The health plan group said the state's new mental health parity law – which requires insurers to cover mental health treatment for people with substance abuse, eating disorders, and autism – offers families relief.
Longtime special education advocates raise another worry: If a private insurer is available to pay the tab for certain therapies, strapped suburban school systems may stop investing in their own programs.
Erica Noonan can be reached at [email protected].